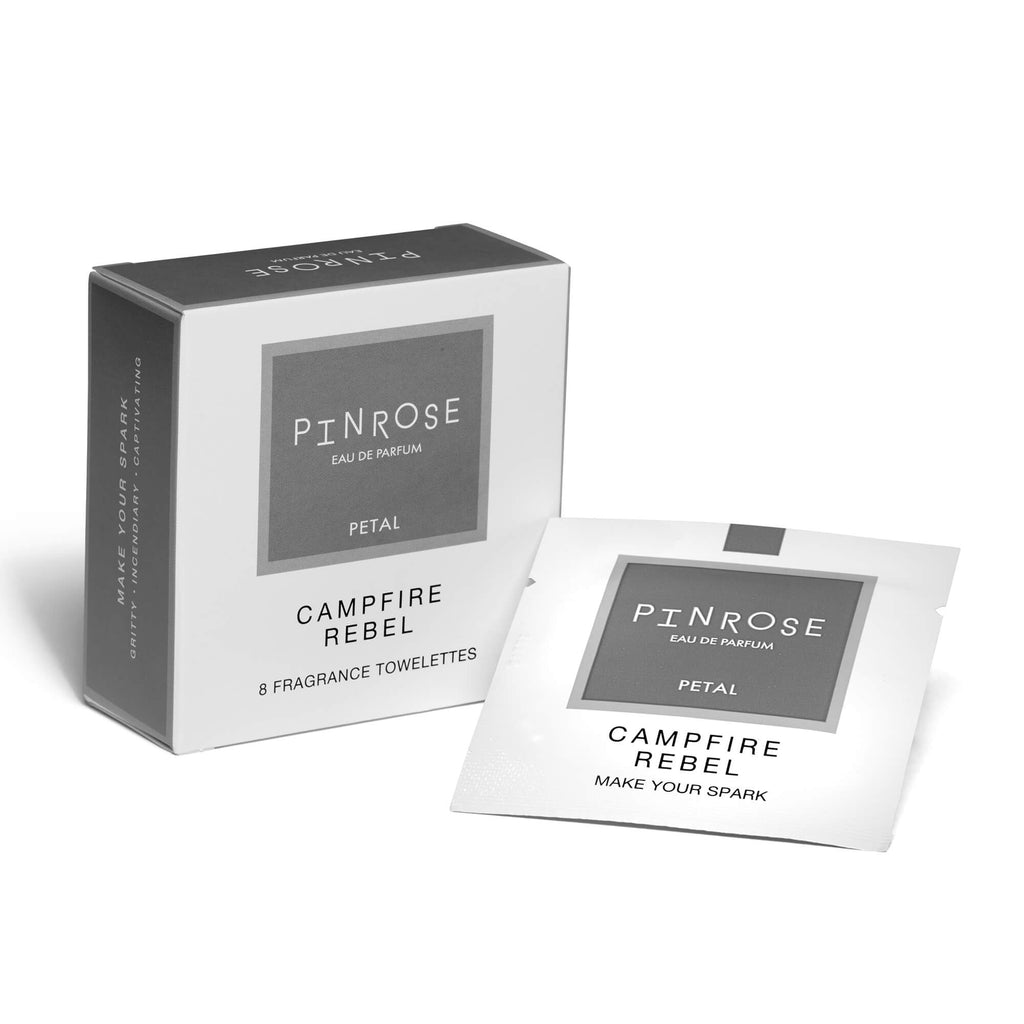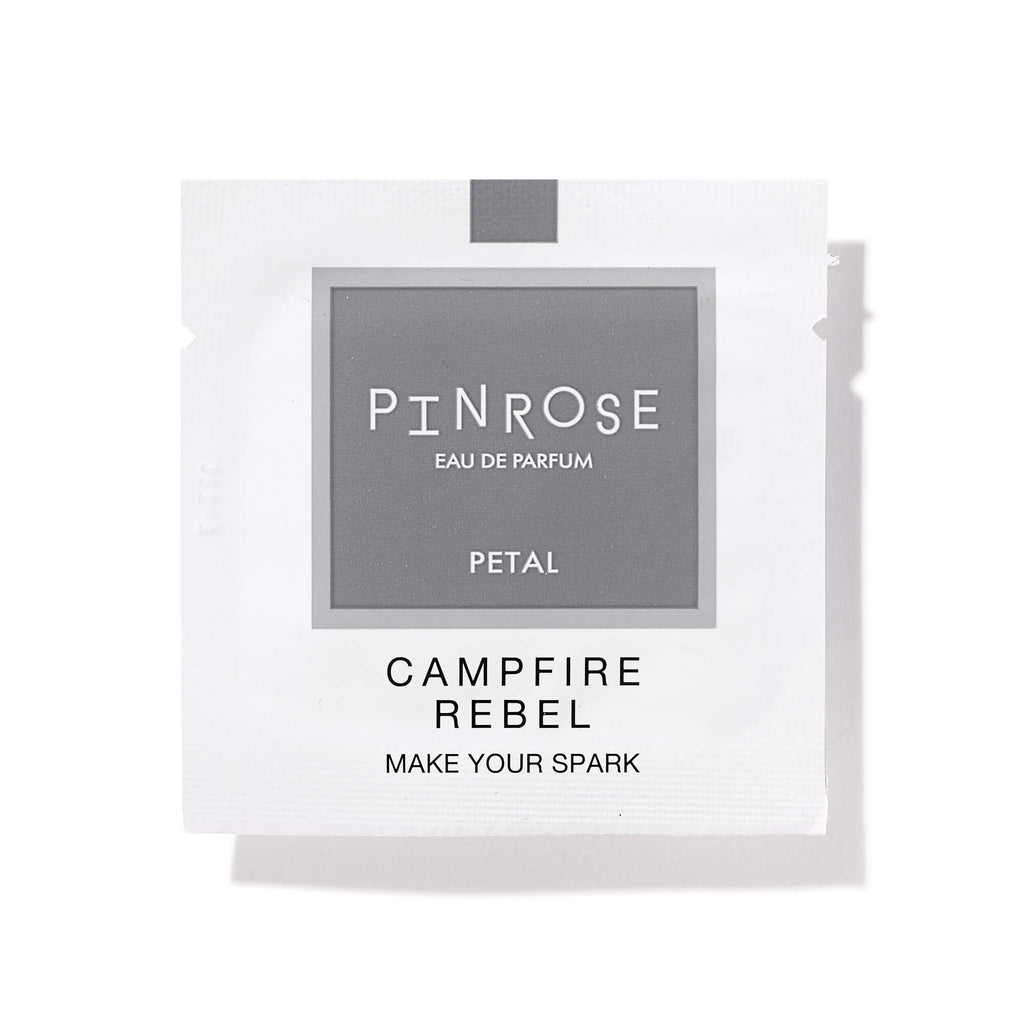 Campfire Rebel Petal Kit 8 Count
Product Description
Spicy and contrarian, Campfire Rebel tells a riveting story to be sure. No toasted marshmallows here – just a shot of whiskey with a raspberry chaser before regaling adventures to those gathered round. Wear it with flare and make your spark.
What is it?
The perfect way to discover your favorite PINROSE perfumes!

What's a petal?
A petal is an innovative way to enjoy PINROSE perfumes; each one contains the perfect dose of fragrance on an ultra-portable towelette.

How do I use them?
Petals are easy to use – just rub the towelette wherever you usually apply perfume.
Layer and play with abandon! Ideal for handbags, gym bags and travel – nothing to break or spill. Petal Kits make fabulous gifts for the fragrance lover.
Inspiration
Ingredients
Return Policy
We want you to be happy with your purchase. If for any reason you need to return your product, please contact us at nosey@pinrose.com.
---
Everything I wanted 'By the Fireplace' to be
Not to bash another brand, because I love so many fragrances, but Campfire Rebel is EVERYTHING I wanted 'by the fireplace' to be. It's smoky, warm. I smell the whiskey and the wood, but the raspberry peeks out at just the right time to keep it from getting too heavy.
Unique and beautiful.
I have been searching for frangrances I could wear that didn't give me a migraine for years. Even many supposedly clean perfumes are a trigger. I was reluctant to believe Pinrose would be different but I'm so thankful to report that I do not get headaches from wearing their fragrances. On top of that I've never smelled a perfume that felt so "me" before. I adore the scent. I layer Campfire Rebel with Gilded Fox for the perfect signature scent. The Campfire Rebel has a smokey earthy subtlety sensual vibe and then the Gilded Fox gives it that touch of sweetness. They are lovely separate too. I just prefer them together.
Rebel me
This particular scent wants me try more!!! I personally like this scent during winter and autumn months.
Unique experience
This fragrance is an experience. I have never smelled anything like it. I bought a petals pack last year, and tried this out when I went to a family party. Everyone kept asking me what I was wearing, and my husband loves it! It is so unique, and for whatever reason, it actually doesn't wear off in an hour. I usually have to layer perfume with unscented lotion, but not with this scent! Very glad I found this.
Smart combination of fragrance notes
Not your typical everyday fragrance and I love it. The smell of whiskey is cut with raspberry and it's just the right combo of serious with a touch of sweet.
My favorite
I've loved this since I found pinrose it is the only perfume my husband loves that does not bother his allergies This smells like a night camping it's unique but very nice
On initial application, this literally smells like campfire smoke. It's uncanny, really. It then melts to a raspberry-vanilla infused shot of whiskey. The lingering smoky embers prevent cloying candy vibes leaving instead a powdery, clean sweetness.This fragrance has the potential to be my signature scent...my leather jacket, rubies and pearls statement. Sadly, there's no staying power, a common issue with Pinrose and the reason for 4 stars instead of 5.
Great for Layering
I love this scent underneath others that are soft, like Secret Genius or Lil Dipper. Alone it's a little rough, but works well on colder days. Recommend if you like slightly masculine, woody scents.
Uncanny
This scent literally smells like campfire smoke when first applied. It's uncanny, really. Eventually it melts on the skin to a raspberry-vanilla infused whiskey. The lingering powdery embers save it from being candy sweet...think leather jacket paired with a strand of pearls. This perfume has the potential for greatness if only it lasted longer, sadly a common issue with Pinrose fragrances.
I tried really really hard to like this one
I don't understand the appeal and some of these reviews - I tried multiple times to like this scent and just couldn't. First spray smells like bug spray to me - it is overly chemical. It does get better with the dry down but it like By the Fireplace went camping and there was an attack of mosquitos and someone brought out the OFF. I think it might be the Whiskey note that is actually off putting to me and that might be what attracts others. I would say buy this in the 10 mls before committing to the larger sizes just in case you are like me and read the reviews think that you love smokey, woody, amber scents and then smell this scent and just smell chemical smell. That being said I love all of the other scents I bought from Pinrose.