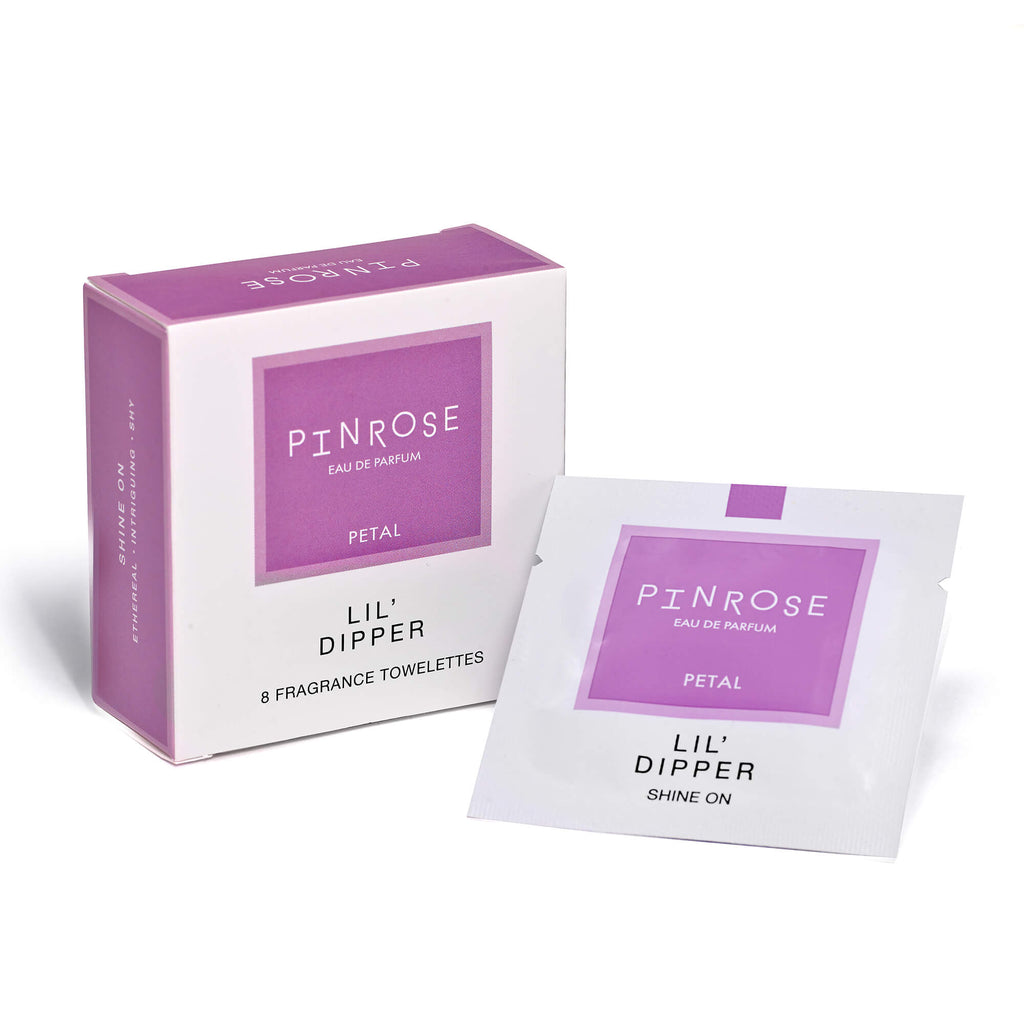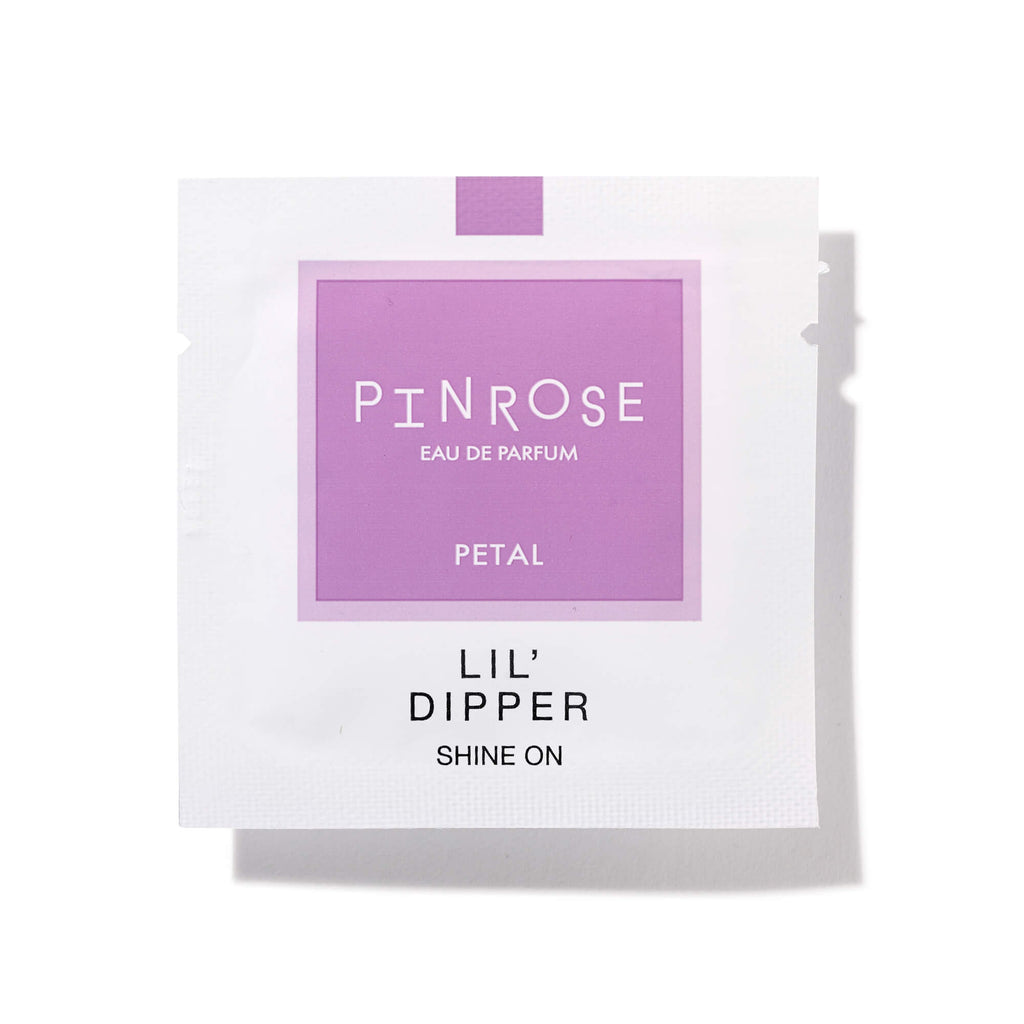 Lil' Dipper Petal Kit 8 Count
Product Description
A provocatively luminous scent, Lil' Dipper pays homage to the sensitive, quiet girls whose inner worlds glow brighter than a night sky brimming with stars. Wear this powdery lavender and lemon peel beauty and let your spirit shine on.
What is it?
The perfect way to discover your favorite PINROSE perfumes!

What's a petal?
A petal is an innovative way to enjoy PINROSE perfumes; each one contains the perfect dose of fragrance on an ultra-portable towelette.

How do I use them?
Petals are easy to use – just rub the towelette wherever you usually apply perfume.
Layer and play with abandon! Ideal for handbags, gym bags and travel – nothing to break or spill. Petal Kits make fabulous gifts for the fragrance lover.
Inspiration
Ingredients
Return Policy
We want you to be happy with your purchase. If for any reason you need to return your product, please contact us at nosey@pinrose.com.
---
A Dreamer!
This fragrance easily lulls me to serenity and sleep. The science and psychology behind this scent definitely works. You have to be a fan of cool florals, light, and intimate scents to rock this one. Longevity on clothes lasts to the next day; on skin about 4 hours.
Fragrant but not overpowering
I love this sampler pack! Originally, the scent quiz said that Pillowtalk Poet was my signature scent, but I knew from experiencing Pinrose via Ipsy that I also loved Lil Dipper, so I chose this package instead. Mystical Misfit is also a good choice for me, and I can wear these alone or build/layer with one another and smell lovely without being overwhelming to my coworkers.
Smells so good
I love this scent!!! It's so fresh and light but smells good all day long. I have sensitive skin but this perfume doesn't irritate me and feels hydrating.
VERSATILE FRAGRANCE FOR ALL SEASONS
I have been using this fragrance for years. It can be worn day or night, all year long. It's the right balance of fruity, floral, woodsy and sweet. It's hard to describe but it's a sexy, flirty fragrance. The staying power is a huge plus for a cruelty free and vegan fragrance. Love it and even my husband (who is hard to please) is a fan.
Great Scent!
This is my new go-to! It's a fresh-light scent that will last all day long! I cannot say enough wonderful things about it.
Repurchased three times!
This is my absolute favorite perfume! I'm pretty sensitive to strong scents, so I love that with this one you can wear it everyday and never get tired! I am repurchasing for the third time, and thought I would leave a review to help others who are on the fence. It is beautifully light floral fragrance but with a touch of sweetness. I feel like this perfume would be a great crowdpleaser!
I love it!'
Second time buying it! And will continue to do so.
Laid back and sensual
I love this one so much. I love that the sandalwood comes through the florals and had just a little lemon zest. Everything is working in harmony to create some chill vibes! Gorgeous scent with good lasting power.
Smells great!
It's a very soft scent and very sort of cute girl vibes. It's not intense and really relaxing.
Perfect Early Summer Scent
I'm a huge fan of perfumer Nathalie Benareau because her fragrances are minimalistic, uncluttered and highly memorable. She's done stellar work for Phlur, so it's a joy to see her talents put to good use at Pinrose. So, Lil' Dipper naturally falls in my Top Five Pinrose scents. I'm not sure how the bottled fragrances compare, but my skin picks up a lot of apple and peony from the petal formulation, with just a smidge of lavender and sandalwood. The heart notes survive the dry-down nicely, giving Lil' Dipper longevity. It's described as a powdery floral, and while it is a soft scent, I don't think that "powdery" is apt -- I prefer "quiet floral" as a descriptor. "Ageless floral", maybe? I can easily imagine fragrance lovers across generations wearing this scent. Pinrose has recently repackaged its Petals: the towelettes are smaller and thicker and come out of the package saturated in fragrance -- prior to repackaging, a lot of my Petals had dried out by the time they reached me. (Disclaimer: I received a set of Petals from Pinrose gratis without a request for a review.)