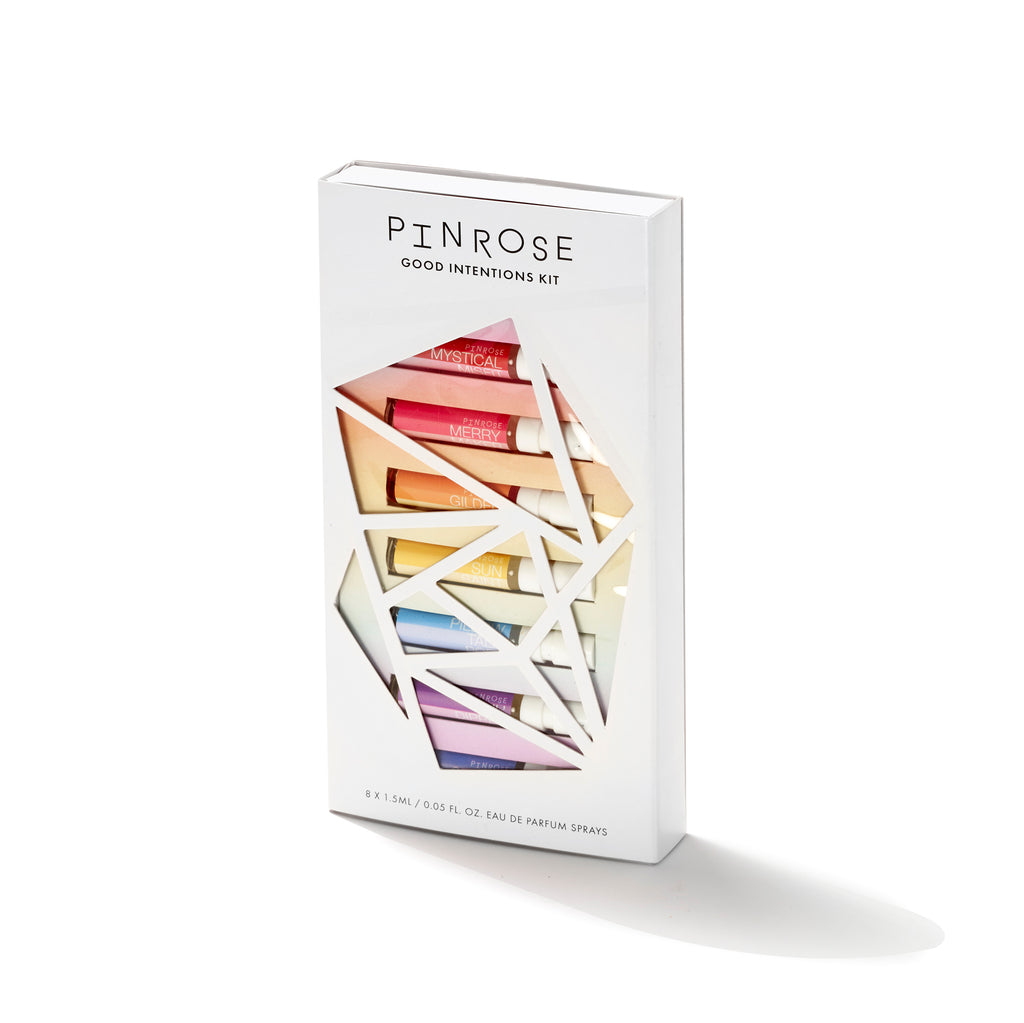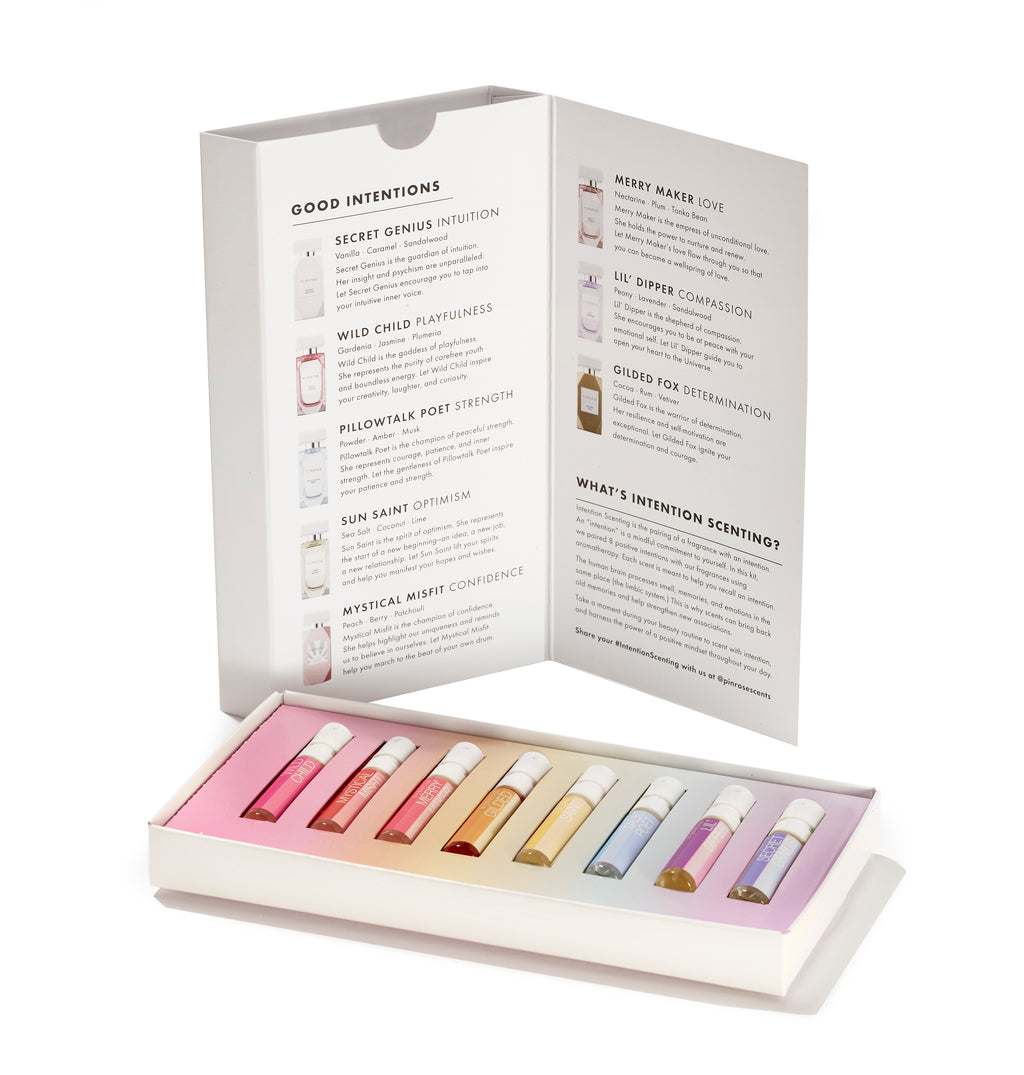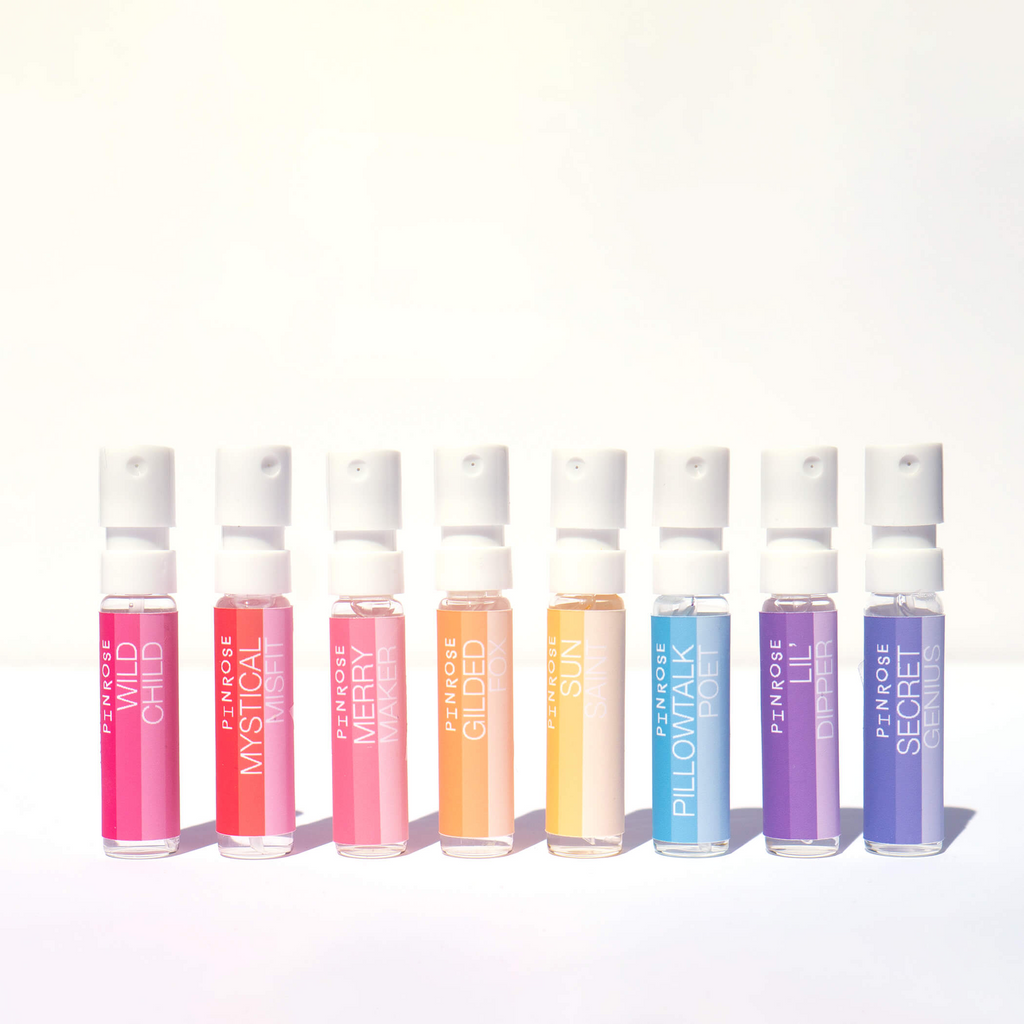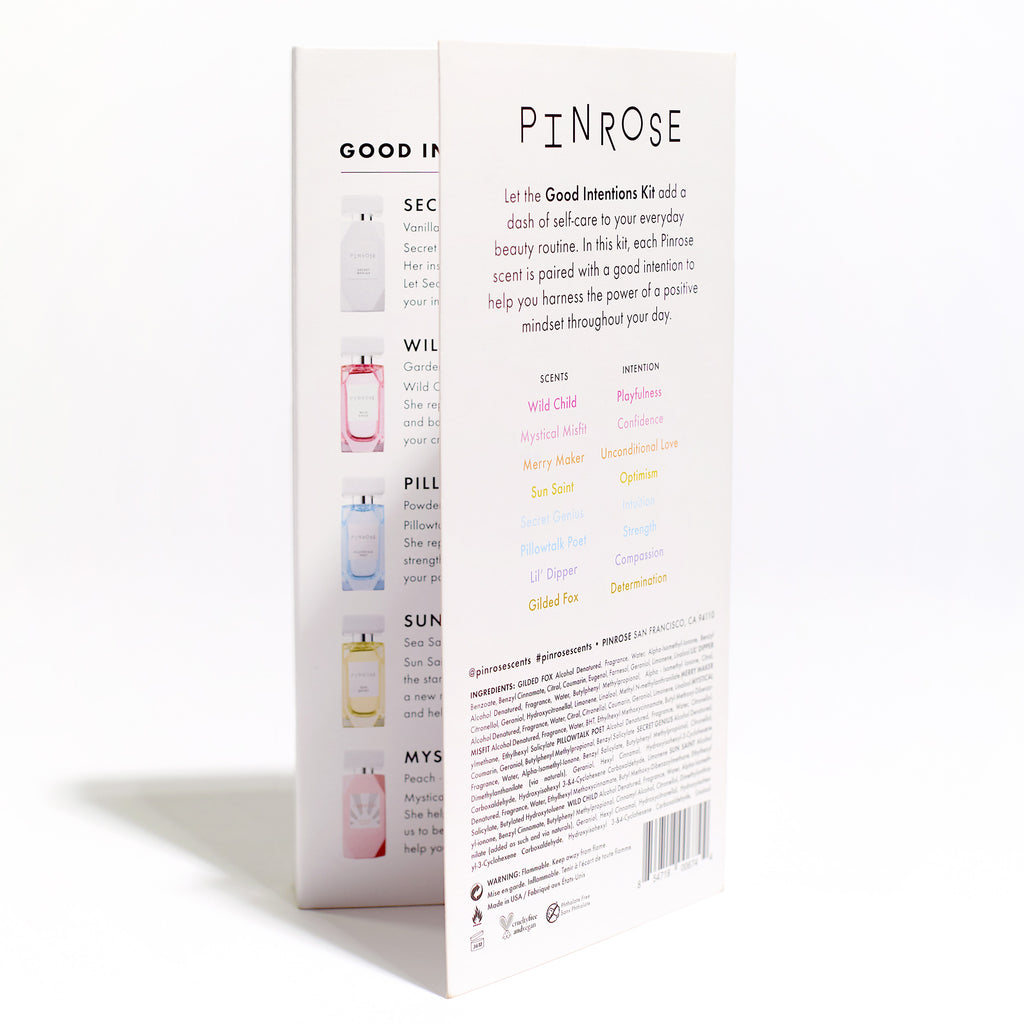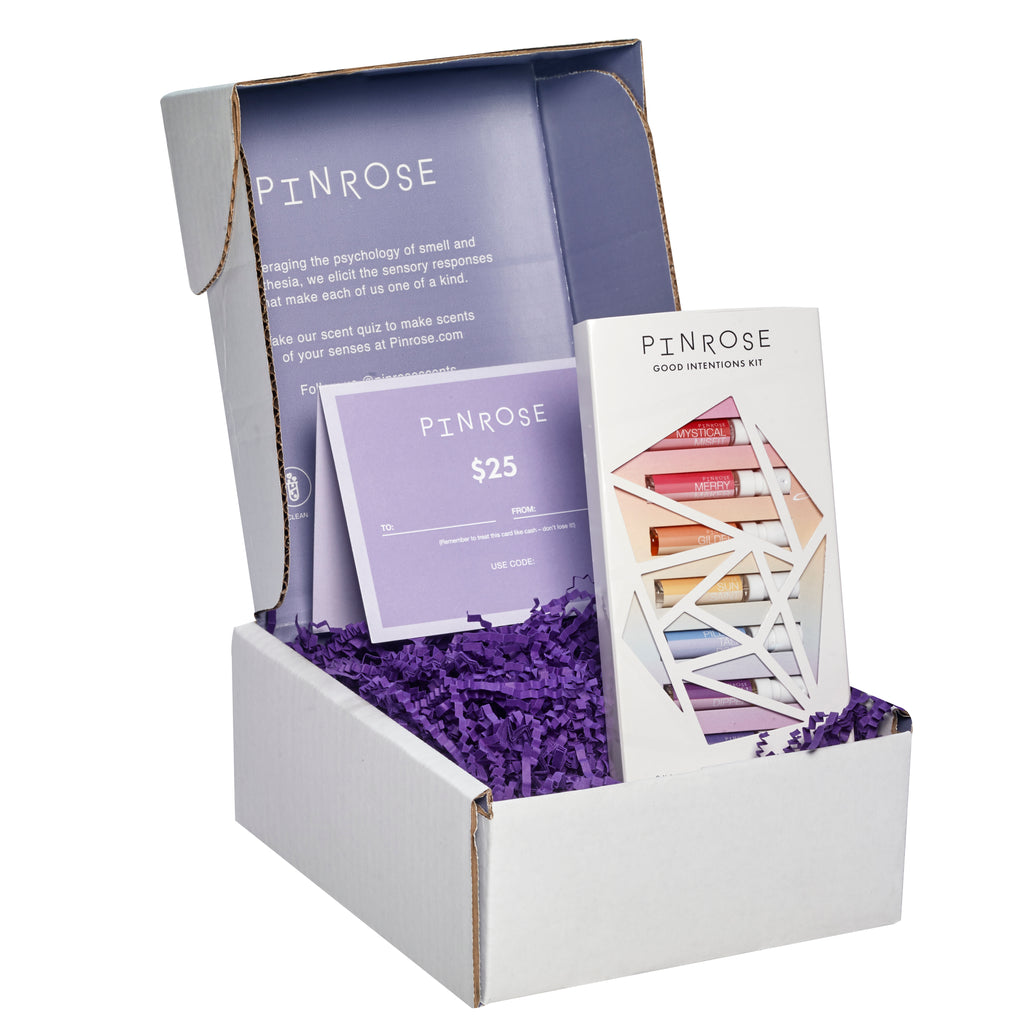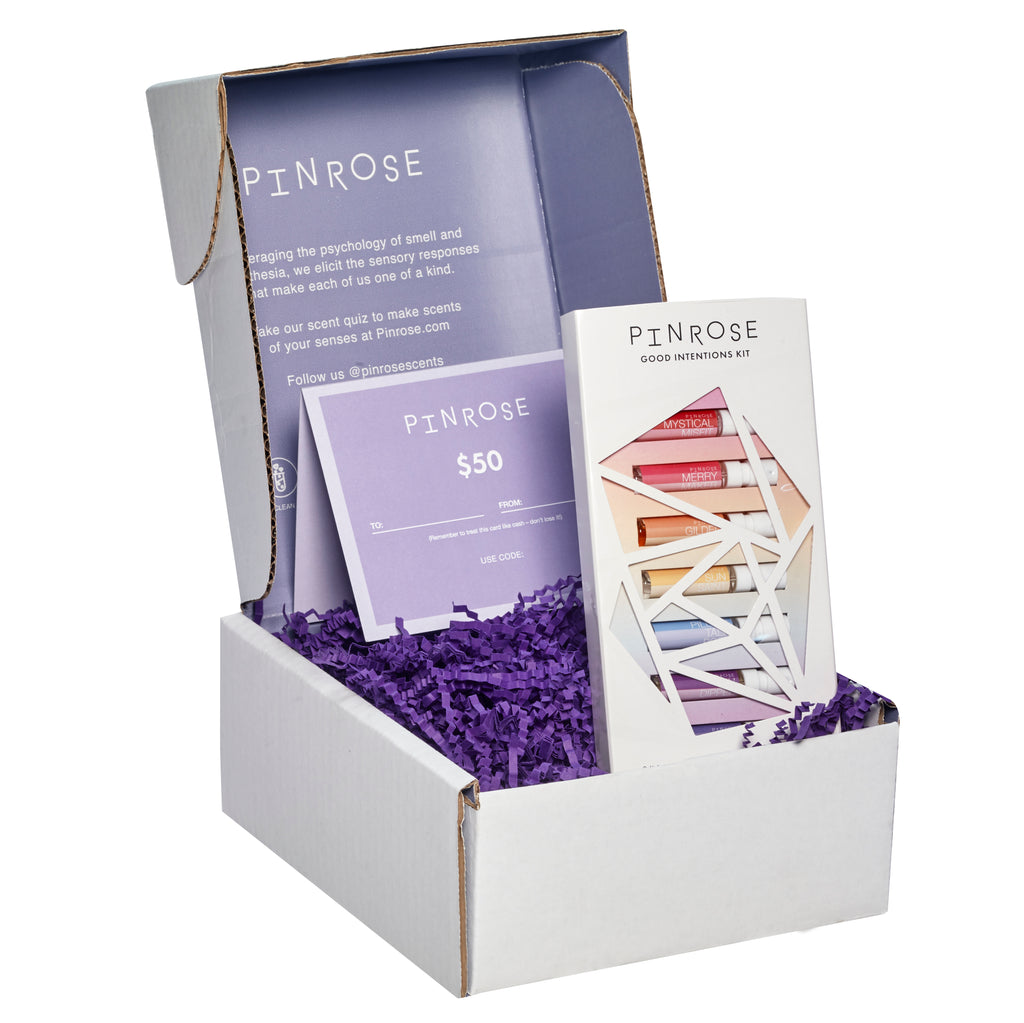 Good Intentions Kit -
Kit Only
Product Description
8 x 1.5mL / 0.05 fl. oz. eau de parfum sprays
Discover 8 uplifting scents in this best-selling eau de parfum collection created from an elegant blend of clean, naturally sourced botanicals and designed to inspire a unique good intention. 
What is Intention Scenting: 
Intention Scenting is the pairing of a fragrance with an intention. An "intention" is a mindful commitment to yourself. In this kit, we paired 8 positive intentions with our fragrances using aromatherapy. Each scent is meant to help you recall an intention.
Return Policy
We want you to be happy with your purchase. If for any reason you need to return your product, please contact us at nosey@pinrose.com.
---
Pinrose is my new favorite brand
I think I love every scent that was included in this kit, but I plan on buying the full size versions of Merry Maker and Wild Child :) cruelty free fragrance brands are an absolute must and super refreshing given the notoriously cruel fragrance industry. Highly recommend the kit to finding your favorite scents!
Easy to find a favorite
I love that these affordable packages allow you to be able to find that favorite scent. Mine is Merry Maker. This is a cute spray set. Very small tubes but you get several days out of one tube to make sure you love it!
Good intentions for sure!
Pinrose offers you the right amount of multiple fragrances.. just enough of each one to find your signature scent and have fun while figuring it out. A great set to explore. Great gift idea as well.
A perfect way to find your favorite scent!
I'm completely new to the world of perfume, but I wanted to treat myself to a bottle recently and couldn't decide on a scent. This sample kit is PERFECT. The vials are very tiny, but as an occasional perfume wearer, I think these will last me a while. I love that they're sprays too. They're very concentrated, a little goes a long way. I'm excited to buy a larger bottle once I narrow down my favorites!
Gift
I bought this for my sister, she loved the small containers and the different scents.
Tween loves it
I bought this set for my tween as she has become more interested in my fragrances and finding her own signature scent. She's having a lot of fun testing each one out. The scent lasts a long while and you really can detect the different fragrance notes.
Lovely for Contemplation
When one of my favorite YouTubers, The Daily Connoisseur, introduced me to Pinrose, I knew I wanted to get a feel for what Pinrose has to offer. This sampler was a lovely way to take my time and contemplate which scent to order in its full size bottle. 👌
Perfect gift set
I received this as a gift and it has been very fun to try out the different scents. My husband and I have enjoyed each one, but Wild Child and Secret Genius have been my favorites!
Love the little spray vials!
I love how cute these are! And so perfect for traveling!
I love the chance to sample each one more than once to really know if you like it!
Love it
You definitely won't smell like old lady with these and can't go wrong with any of these scents. I feel like some last longer than others. Different and fascinating scents.