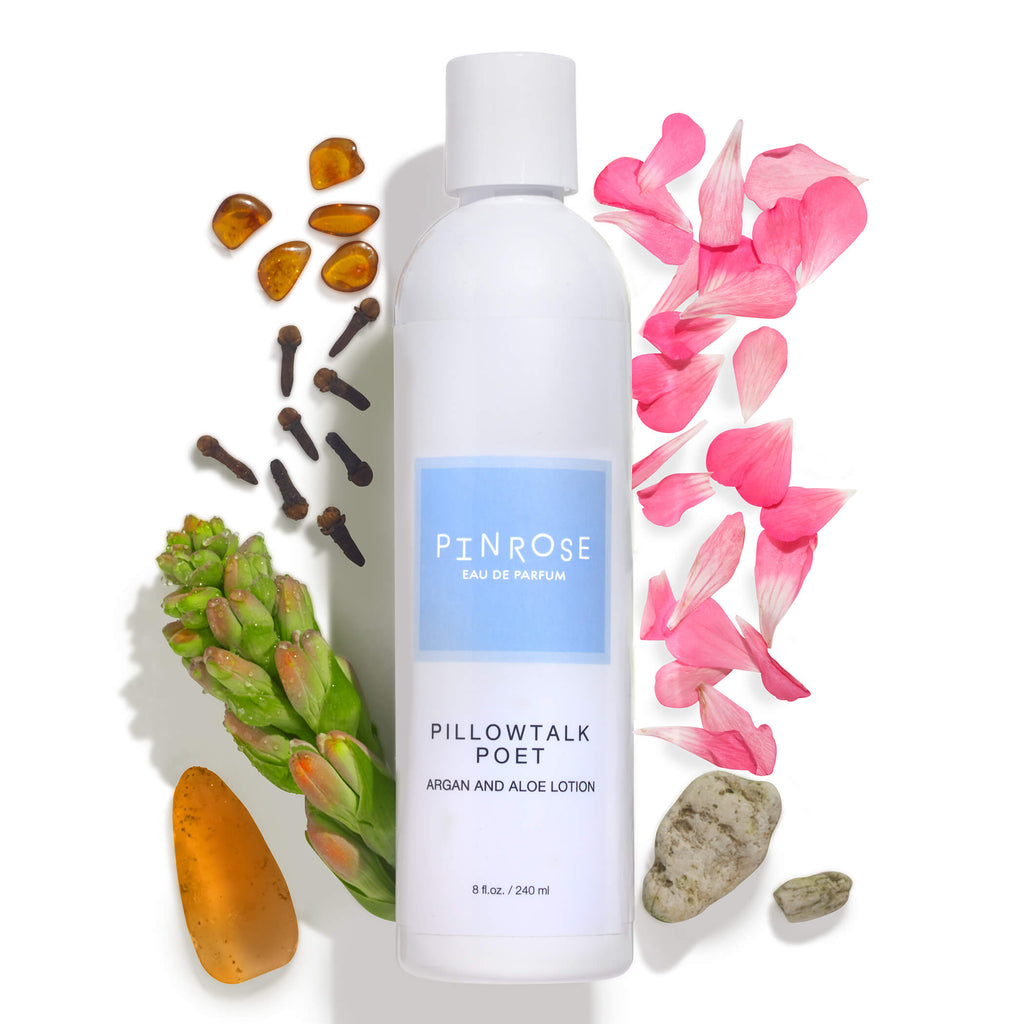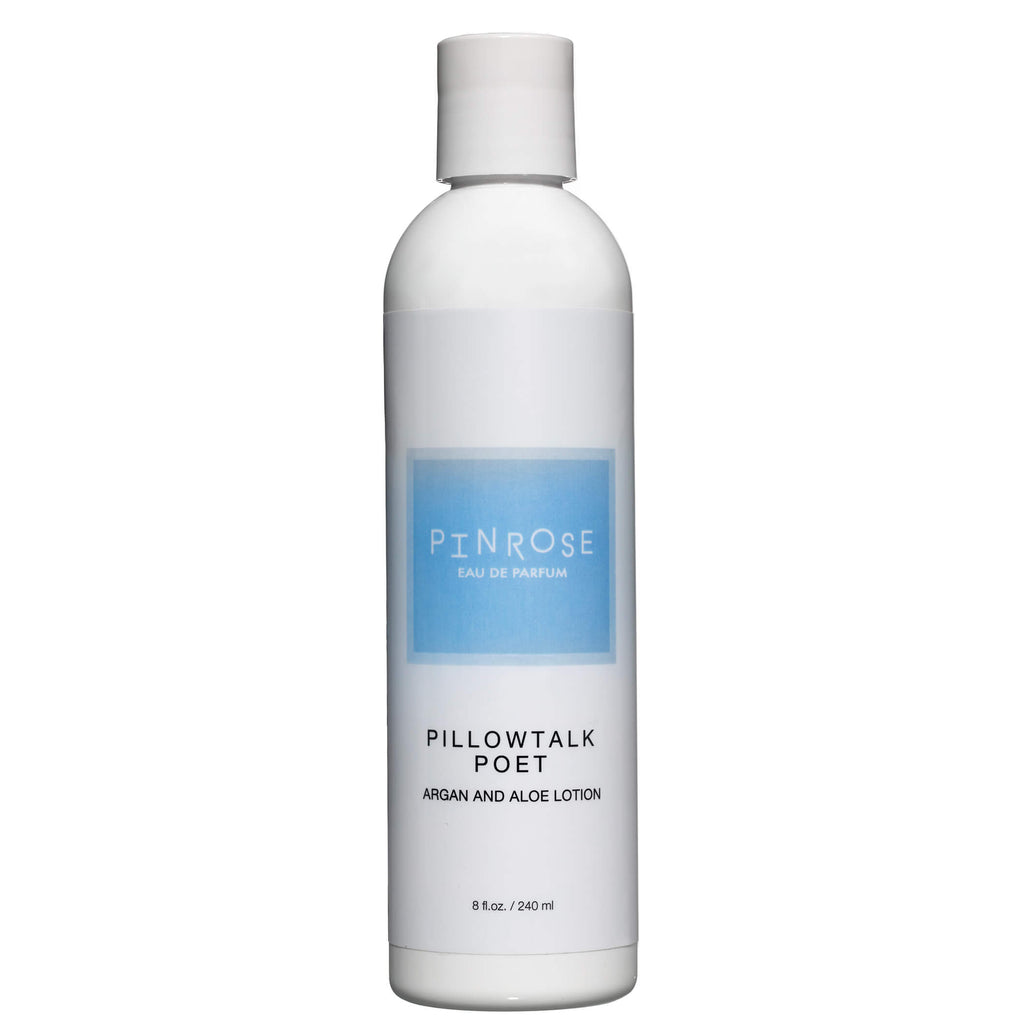 Product Description
ARGAN AND ALOE LOTION 8 fl. oz. / 240 ml
Now available in a luxurious body lotion, our coziest composition warms and comforts with notes of powder, ambergris and musk.
Deeply moisturizing but never greasy, this indulgent formula nurtures and pampers with Argan Oil, Aloe, Shea Butter, Jojoba Oil and Organic Green Tea whilst wrapping your skin in the sheer and sexy skin scent of Pillowtalk Poet. 
Inspiration
Ingredients
Return Policy
We want you to be happy with your purchase. If for any reason you need to return your product, please contact us at nosey@pinrose.com.
---
Soft and pretty
I definitely need this for layering with the perfume as it is a very light scent. Pilliwtalk is my favorite of the pinrose scents. If you like light unisex soft woody scents like not a perfume, molecule 01, and Persian garden. It has a soft woods and powder scent to it. You can definitely layer it with other scents as it would make an awesome base, but I like it for days I just want a soft cuddly scent that will never overpower.
Hydration lasts for days
I've been super busy lately, so I haven't been able to spend much self-care time as I want to. I realized that on the days that I forget to apply the lotion, my skin still feels moisturized! Pillowtalk Poet is also my favorite scent, so it makes me feel extra warm, cuddly, and fuzzy when I put it on before I sleep.
I will say that I'm a little disappointed in the bottle itself. It gets really hard to squeeze out the lotion especially with slippery hands. I'll probably have to find a pump that fits this bottle, but I really hope that in the future the lotion can be sold in a jar for easy access.
Perfect for layering and moisturizing
All the Pinrose products I have received are fabulous. My favorite is Pillow Talk Poet. This lotion is such a nice compliment to the spray scent. It applies easily and makes the skin soft. The fragrance lasts. People I encounter compliment on the light smell of perfume I wear. This suits me well and I will continue to purchase and recommend it highly to others. I discovered this scent and company through IPSY. So happy I did. The customer service from Pinrose is great and so are the prices.
Pillowtalk Poet Lotion
I do love the actual lotion and scent, however I have to tell you that the container is problematic in that it is stiff and I have to take the lid off and squeeze with both hands to get the lotion out.
I love it.
Pillowtalk Poet is one of my favorite scents ever so when I saw the lotion, I immediately hit buy. The scent is on the lighter side so I do wear this and the perfume for more staying power. The lotion is wonderful though, makes my skin so soft. I do intend on buying more when this bottle runs out.
Scent too light.
I bought this for Valentine's Day and my wife was happy and surprised to get it but she said the scent was too light. She can hardly smell it.
Super silky!
I'm obsessed with the pillowtalk poet scent, so I had to try this lotion! It's super silky and non-greasy which I love. I love strong scents so I wish the scent of the lotion was a bit stronger, but that's just my preference. I used it all over my body at night, and loved the scent of it going to sleep. It was a little hard squeezing out the lotion once my hands were lotioned up, so that was pretty funny. Overall recommend if you're looking for a soft, silky and subtle scented lotion!
A scent that stays!
I bought the lotion as a base to keep the fragrance consistently activated throughout the day. This method is working well and I'm loving the scent. 😊