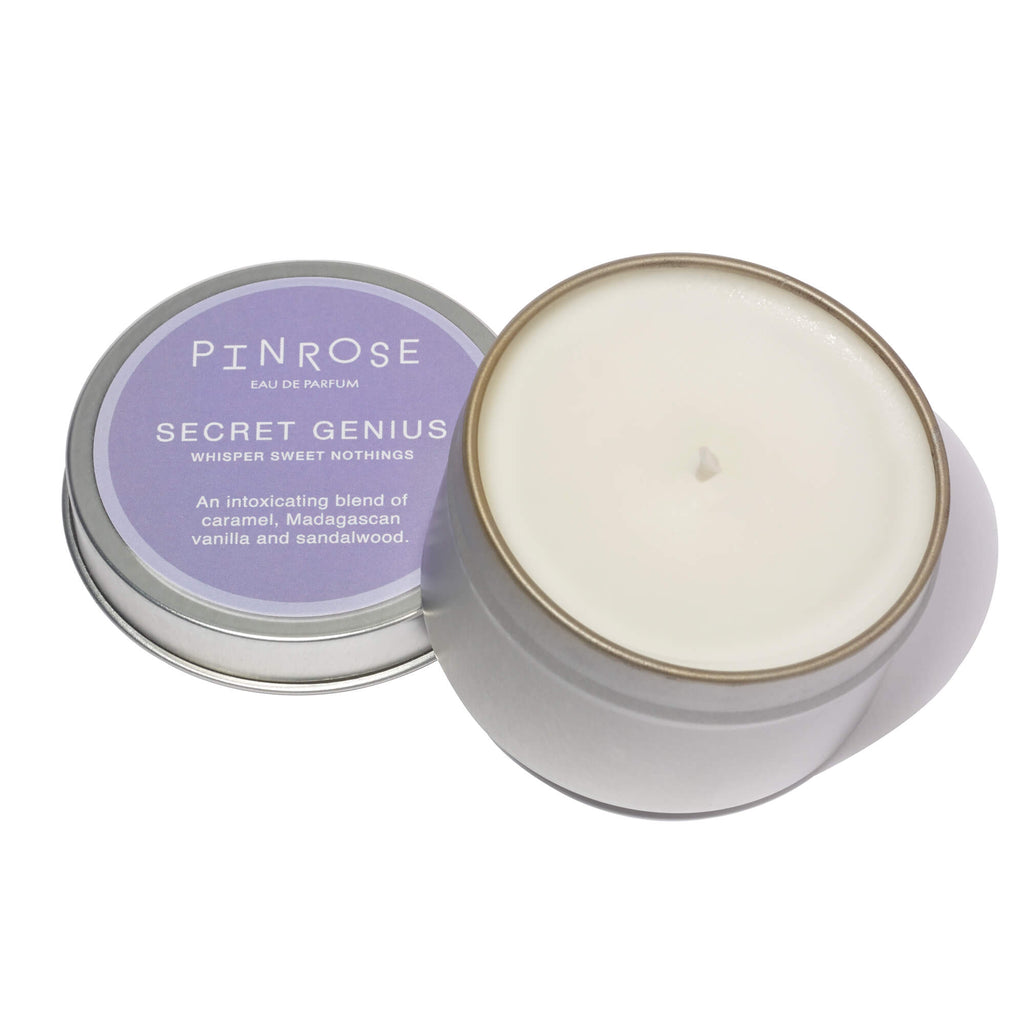 Secret Genius Personal Candle Tin
Product Description
Scented Candle 6 oz  |  Approx. burn time 50 hours
Size: 6 oz.

Burn time: 50 hours
1 ¾" High x 2 ¾ " Diam.

100% cotton wick

Apricot wax (no paraffins)

Made in the USA

 
Inspiration
Ingredients
Return Policy
We want you to be happy with your purchase. If for any reason you need to return your product, please contact us at nosey@pinrose.com.
---
Secret Genius Candle just as delightful as my perfume!
I absolutely LOVE this scent. Rarely in my life have I purchased a perfume more than once as I like to change it up but this is MY scent. I was disappointed to see it's not longer available at Sephora but luckily, my search brought me directly to Pinrose where I found more items in my favourite scent.
It's a perfect candle - not too strong but enough for a light sprinkling of scent through the room, not overpowering so no headaches but just reminds me of sweetness.
Yummmm
This is my go to fall scent! I always make sure to stock up because i burn these all Autumn long !
The PERFECT candle
I own both the secret genius scent as well as the 'Pinrose' scent of this candle and they are both so beautiful! This is the lightest of all the fragrances. The caramel and vanilla notes make this the perfect candle to gift in my opinion. It's soft and while burning or just sitting out it lightly fragrances the air with its beautiful blend of perfume. I love that this candle is clean burning (no lead wick!) and that it has a 90-hr burn time (a long time for a small- medium size candle) and to me it's essential to burn candles that don't contain pthalates or parabens, and other chemicals, this one is clean wax-coconut/apricot. It lives in my nightstand and I use it while in the bath too. My partner is extremely sensitive to fragrances, and often sneezes b/c of other candles and perfumes, but this sits out and he doesn't have an issue with it. He also told me he LOVES the scent of my perfume which is secret genius solo or blended most often with the Merry Maker perfume spray. My daughter also loves this scent so much. I guess you could say our whole family is hooked on it! I'll be buying these as housewarming gifts, Christmas gifts, etc., they are packaged safely so they don't break.
LOVE
This candle is divine! I love Secret Genius as a perfume, and the candle has the same warm, cozy, beautiful scent. It is great quality and is well worth the price. It makes my room smell amazing!