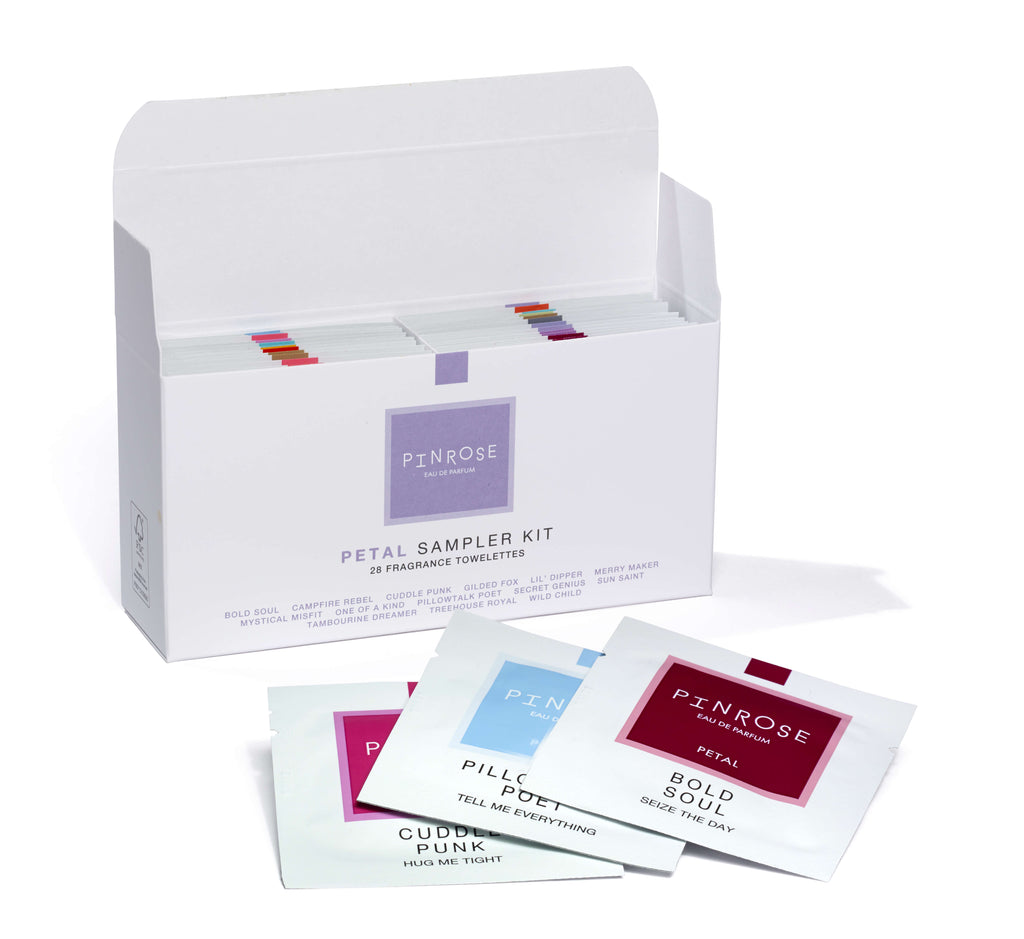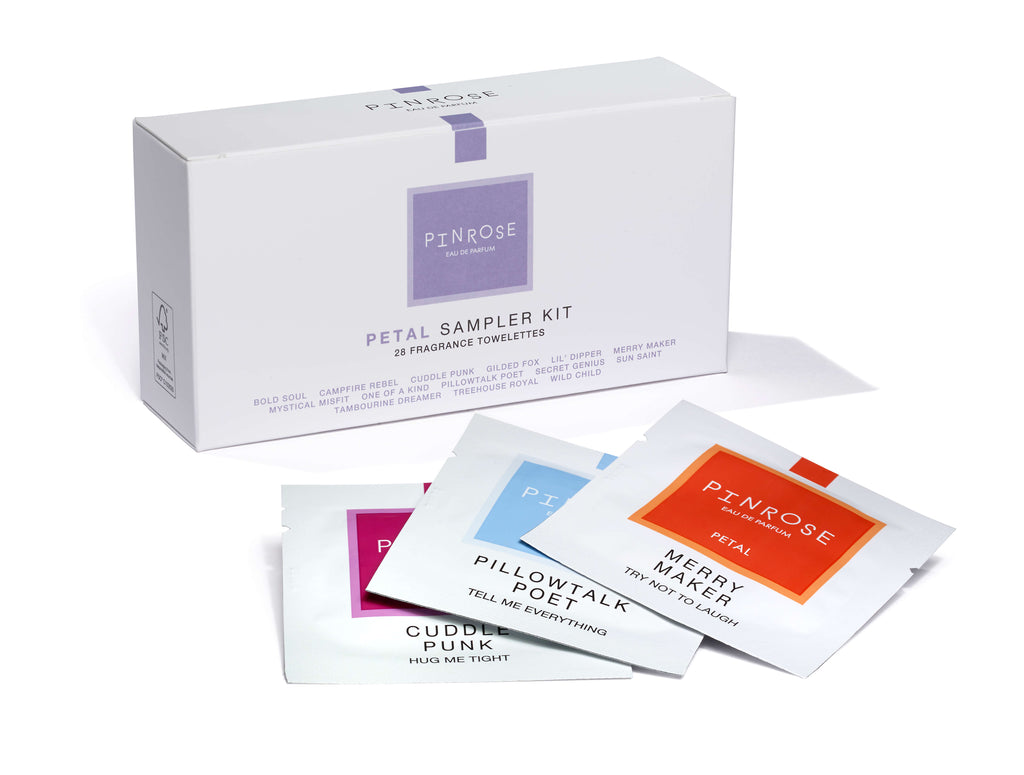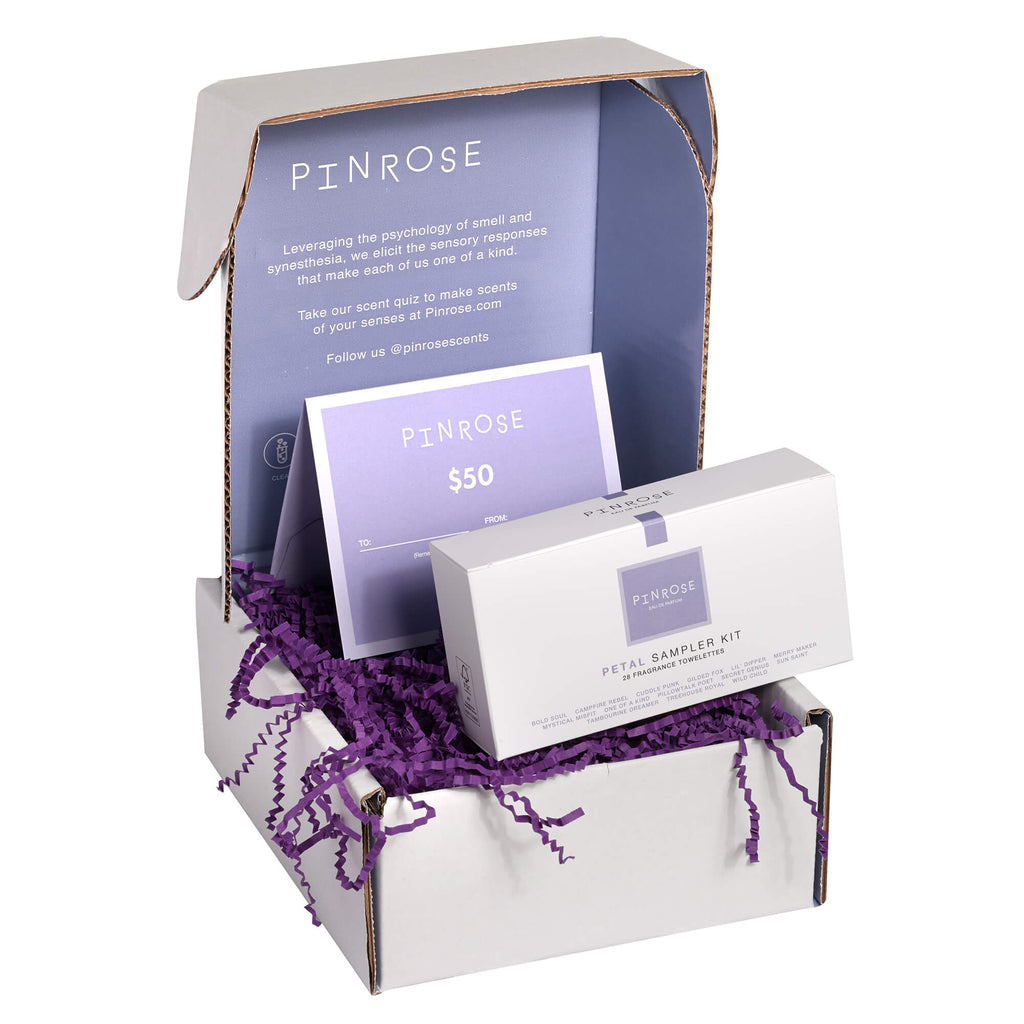 The NEW Sampler Kit -
Kit Only
Product Description
A petal is an innovative way to enjoy Pinrose perfumes; each one contains the perfect dose of fragrance on an ultra-portable towelette made with a biodegradable substrate.
How do I use them?
Petals are easy to use – just rub the towelette wherever you usually apply perfume.

Ideal for handbags, gym bags and travel – nothing to break or spill.

Petals make fabulous gifts for the fragrance lover.
Inspiration
Return Policy
We want you to be happy with your purchase. If for any reason you need to return your product, please contact us at nosey@pinrose.com.
---
I love it! Trying out the scents before deciding has definitely helped me choose various options, including for gifts!
Nice way to try them all
This is a nice way to try the perfumes available.
Beautiful fragrances made in USA
I really love this brand. Especially that they are here in the USA. However, I don't particularly like this delivery method of little moist towelettes. It certainly doesn't take away from the lovely fragrances, but now I know to go for either the smaller spritz size or a roll-on sample.
Lovely Mix
I'm very pleased with the fragrances. The toilette format is very convenient and the fragrances last pretty well. I was not familiar with this fragrance brand or their fragrances so this variety pack was a good introduction.
Great for broadening your tastes
Overall a range of uniquely different scents. The assortment has a few options in floral, fruity, and sweet categories with a couple of wild cards.
Also a great kit for learning what you like.
A MUST HAVE!!
I have to tell you that for me that's no choosing my favorite scent with pinrose! I love so many of them and what I love even more is when people stop me when I'm out and about and say something like "Wow, you smell amazing!". Pinrose perfumes are a must have for any woman and my favorite are these petals! They fit perfectly in your purse/bag and it's a great way to try a few different ones to see which one you like the best!
How do I choose??
I'm really picky about scents. Most perfumes smell too... perfumey? They all smell bad in the same hard to describe way.
Secret Genius has been my holy grail for years. So I figured it wouldn't hurt to check out Pinrose's other options. I used each portal for a few days and closed the packet with a clip. And now I need Cuddle Punk, Bold Soul, Gilded Fox, Campfire Rebel, AND Secret Genius. I might just buy a small bottle of each.
I cannot believe there are so many scents out there that appeal to me - I never have any luck at stores. Thanks for making such unique fragrances and for this easy way to check them all out!
Best thing ever!
I love these! Perfect for travel and also to figure out what your favorite fragrance is. There is so much variety to all of the fragrances Pinrose offers! It's affordable too!
Love Pinrose
This is my second purchase from Pinrose and a sampler. I've enjoyed both very much. I love experimenting with the different perfumes. I can't decide which one I like the most so I continue to use the sampler packs. Its a wonderful way to try new scents.