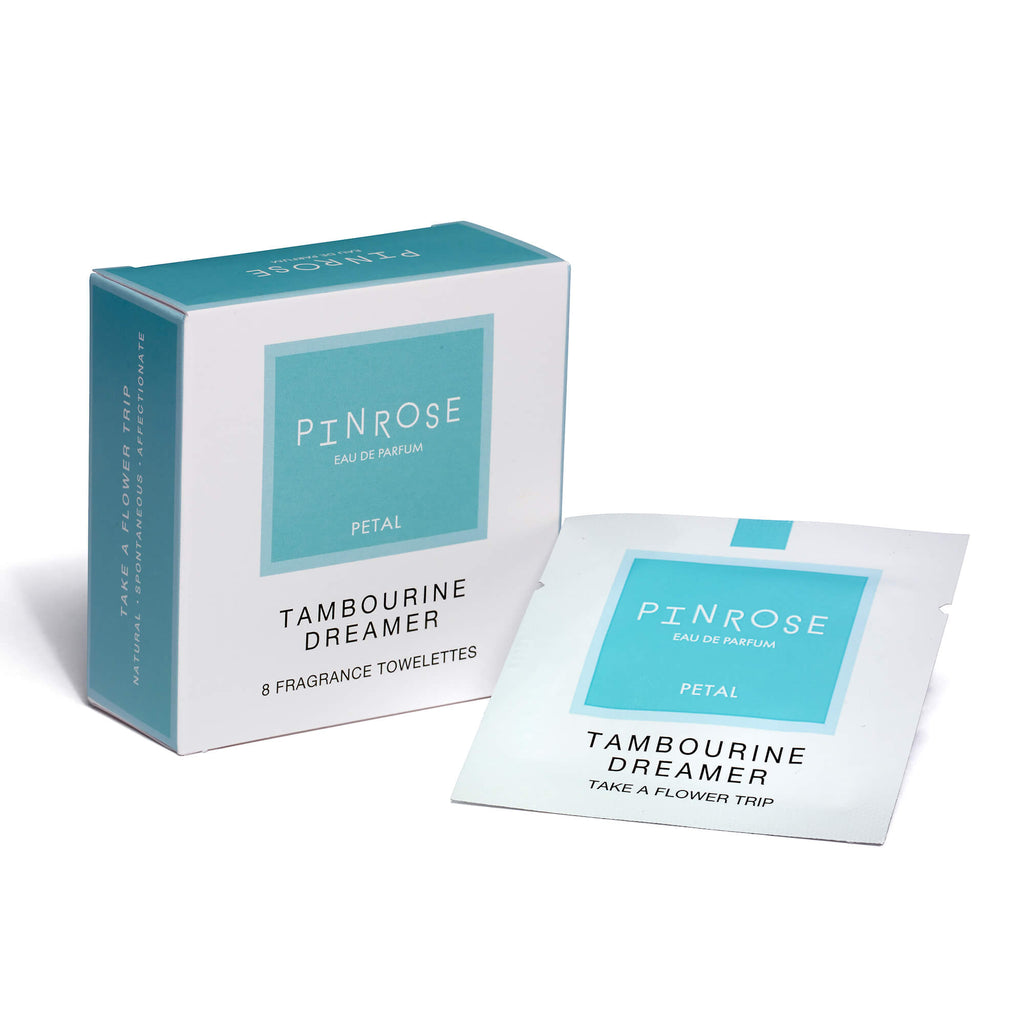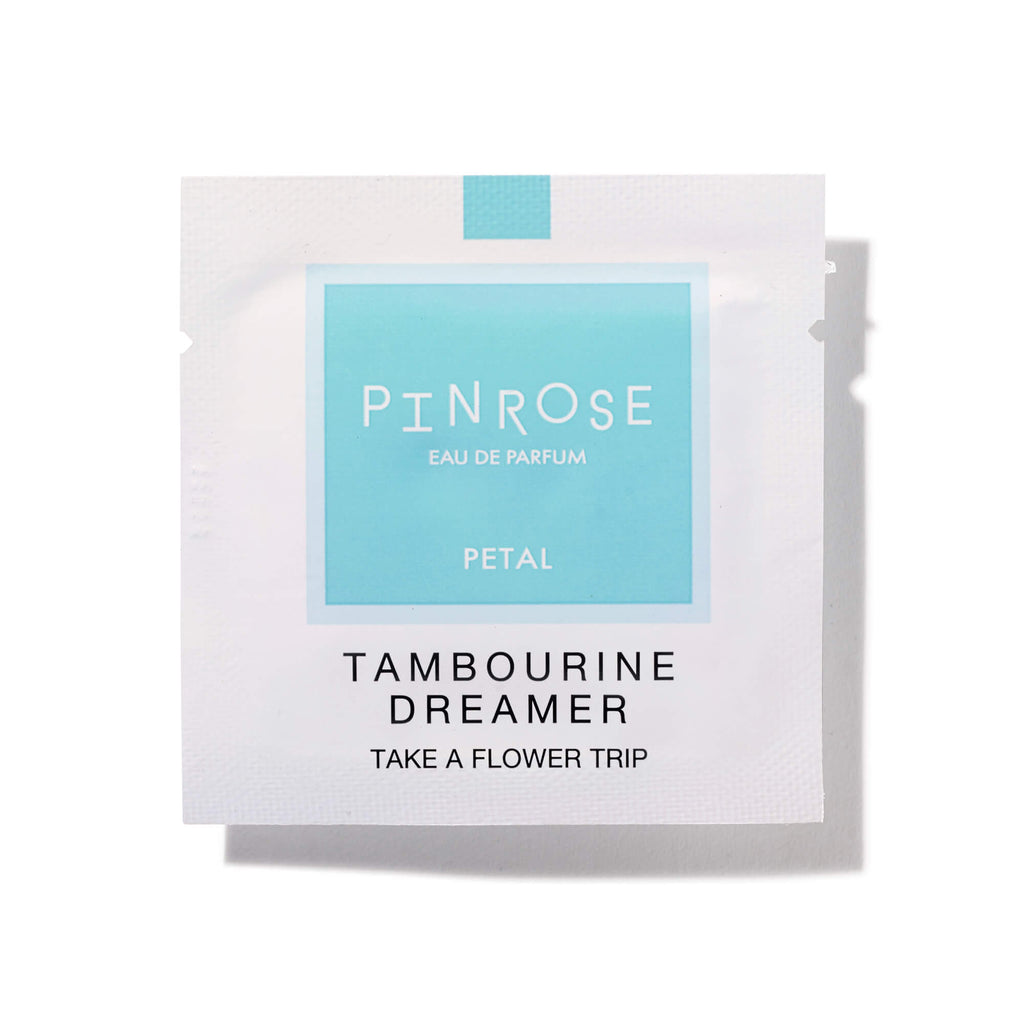 Tambourine Dreamer Petal Kit 8 Count
Product Description
A little bit retro-cool yet ever so buoyant and bright, Tambourine Dreamer is the inflorescence of spring breezing through your window on petals spangled with dew. Winter doldrums give way to sensory wanderlust and it's time to take a flower trip.

What is it?
The perfect way to discover your favorite PINROSE perfumes!

What's a petal?
A petal is an innovative way to enjoy PINROSE perfumes; each one contains the perfect dose of fragrance on an ultra-portable towelette.

How do I use them?
Petals are easy to use – just rub the towelette wherever you usually apply perfume.
Layer and play with abandon! Ideal for handbags, gym bags and travel – nothing to break or spill. Petal Kits make fabulous gifts for the fragrance lover.
Inspiration
Ingredients
Return Policy
We want you to be happy with your purchase. If for any reason you need to return your product, please contact us at nosey@pinrose.com.
---
Best fragrance ever
When I imagine what I want to smell like, this perfume brings it to life. Clean and floral. This is by far my favorite perfume ever. In love with this one!
Fresh & Uplifting
I couldn't love this fragrance more! It is such a fresh and uplifting scent. It's a clean, out of the shower type fragrance to me. And considering it's a floral scent, I was surprised at the incredible longevity of the scent. It lasts all day long on me. I love that all the Pinrose scents are vegan. I enjoy wearing fragrances every single day but it makes me feel extra special knowing it's a vegan formula.
Fresh clean
This is my other favorite pinrose, with piloowtalk. This one is a nice fresh clean lily of the valley scent. It joins my collection of scents like this I love living grace and gap heaven.
I wear it when I just want a nice shower fresh scent on a hot summer day.
Floral but still so fresh!!
I was very surprised with this fragrance, even though it has floral notes it's still very fresh. Also has amazing staying power on me. This is my third favorite fragrance from Pinrose Scents! (yes, I have more than two!)
Tambourine Dreamer
Sadly I didn't really love it…I was hoping for a little more of a musk tone.
However, I do Love the Merry Maker!
The scent is one the quiz said was for me, and while it is ok, I would not wear everyday. The scent is pleasant, but not for me I think.
The Scent is not for me
I had hoped the woody scents would be heavier than the florals, I was wrong. The floral scents are not in my comfort zone and I did not like it overall. Don't hate it, but not a top ten. Personal preference.
Wish it lasted longer
I give it 5 stars for the smell. It's divine! Unfortunately I give it one star for longevity. Spray it on, it's gone in about 2 hours. So disappointing. It doesn't keep me from repurchasing, but I feel like I wear it for my own enjoyment since I can't share the smell with anyone else!
Confused!
I loved this scent when I first found Pinrose a few years ago, but I thought it was being discontinued, so I didn't buy a bottle because I didn't want to get attached. Fast forward to a few days ago when I saw it had NOT been discontinued. I jumped at the chance to buy a big bottle.
Notice I said a big bottle.
The fragrance arrived within a few days securely packaged and adorably packaged, but this is where my confusion occurred: the bottles you used to sell were the same design but much larger for the same price. Yes, this bottle was on sale, but usually your large bottles were 90 dollars. I remember from Sephora. Did I get overcharged? Did your fragrances nearly double in price? I'm just baffled and a little annoyed because I thought I was getting a bigger bottle.
The fragrance itself is still lovely and light and breezy, packaging was cute and secure, and shipping was very timely. I took a star off because no matter how I look at the pricing, it's more expensive for less product.